Running for new records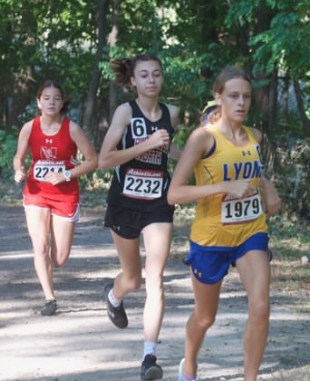 North's girls cross country team participated in Naperville's Twilight Cross Country Invitational on Oct. 6, and several competitors ran personal records
"Our Twilight meet was one of our biggest meets ever," junior and varsity runner Vivika Ramos said. "With 14 schools and a crazy amount of runners, all 10 of our varsity girls broke personal records." 
In a 3-mile run in the varsity division, senior Michelle Masis broke a personal best record  at 18 minutes and 37 seconds. 
"This has been my best time so far throughout all four years of high school," Masis said. "I hope to continue to drop time in the upcoming meets for my senior season."
Masis is in her fourth year of cross country and her second year as  team captain. Throughout each year, she has improved not only on the track, but in her personal life.
"I think I have improved most in my leadership skills." Masis said. "With my role as captain these past two years, I've gotten the opportunity to become more comfortable with communicating with my teammates and helping them out whenever they need it." 
Her coaches also recognize the leadership skills Masis brings to the table.
"Michelle has become a leader on the team and for her peers in the building," cross country coach Ryan Paymaster said. "She has always listened intently and taken in what I am saying. She has become one of the best students and athletes I have ever had in my career. She is continually doing exactly what she needs to do, and her leadership is taking this team to the next level whether she realizes it or not."
The Twilight race was also a win for Freshman Elsie Czarniewski, setting her personal fastest time. Czarniewski finished in  18 minutes and 57 seconds. 
Czarniewski along with two other freshmen made major breakthroughs this season.
"All of our freshmen are killing it this season," Ramos said. "Three freshmen Lindsay Wenz, Elsie Czarniewski and Lauren Deangello made the varsity team. They have adjusted so well and their performance has been incredible."  
Ranked 30th in the state, the girls had several wins throughout the season. 
"We won the Plainfield City Invitational and Reavis Invitational," varsity coach Tammy Gummerson said. "The ladies continue to improve each meet. Overall, the group is awesome with lots of talent so it has been great." 
Taking third at the East Moline regionals and prepare to continue on to sectionals and state. 
"A lot of preparation and coaching this season has been around making sure that we're properly fueled, stretching, rolling out and sleeping," Paymaster said. "Cross Country is a sport that requires dedication and commitment to succeed and help your team win. It's 24 hours and 7 days a week of being aware that you are an athlete."
The girls feel they owe their  success to the coaches.
"Our Coaches, Tammy Gummerson and Ryan Paymaster have led us in the right direction and always put our health first," Ramos said. "They push us to do our best and set us up for success time and time again. I'm proud to say this has been our best season yet."