Girl's volleyball serves up win in home opener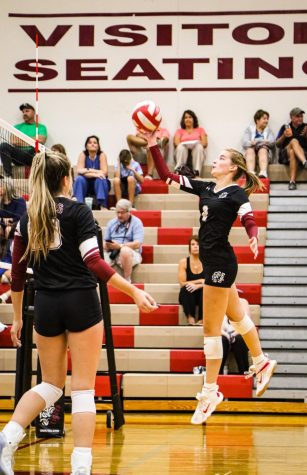 Girls' varsity volleyball head coach Matt Slechta grinned from the sideline after his team beat the Wheaton North Falcons in three games during the Tigers' home opener on Aug. 23.
Junior Cassidy Clinton took the Tigers to an early 4-0 lead during game one. The lead grew to 6-1, the biggest deficit of the game, courtesy of kills from junior Ella Strausberger and senior Victoria Bouska.
"It feels really good having a different variety of younger kids on the team really helps out a lot," Strausberger said. "People are having to step in and take higher roles than they did last year, so we're getting used to that and getting back into the flow of things."
The Falcons responded with a series of scores to tie it up at 12 apiece. Though the two teams went back and forth, the Falcons closed out game one with a final score of 23-25.
Senior libero Jackie Gladstein kicked off game two, where the Tigers found themselves once again with an early lead. Kills from Bouska and junior Elizabeth Fitzgerald gave North a 5-1 start. The lead kept bouncing from one side to the other, but highlights included three of Jansen's six kills of the night.
"We definitely still have a really good team this year," junior player Sam Fontanez said. "Players like [Jansen] have stepped up both as leaders and players. The best part is, Jansen is just one player; the whole team has a lot of star power."
Another Fitzgerald kill had Wheaton North calling a timeout with a score 20-18 in favor of the Tigers.  A Strausberger block, a Bouska kill and an ace from Clinton split the series.
Game three began with a tone-setting kill from Junior Ella Maletitch, and the Tigers never looked back. Wheaton North made a late rally to get the score to 24-13, but another kill from Maletitch sealed the win.
"It was good to get through the first game jitters and [try] to figure each other out on the court," Slechta said. "We've never played together as a group yet, so I think they did a really good job tonight."
The Tigers come into this season looking to fill the void left from alumni Ella Wrobel, last year's team captain.
"Losing [Wrobel] was disappointing after last year, but this year I'd say we're a little bit more balanced overall, in terms of every single position," Slechta said. "I think our depth is a lot better this year than in previous years, and that's gonna be what gets us wins throughout the season."
The players, however, are looking ahead to the rest of the season and adjusting to the new roster.
"We have a bunch of good all-around players," Strausberger said. "For example, [Clinton is] a setter, but she's playing DS. [Maletitch] is used to passing, but she's playing all around the outside, so it's really good to have a different mix of positions on the court."
Slechta makes sure team bonding is present on both the varsity squad as well as the JV team, as it allows for easier communication and overall chemistry on the court.
"We had about two weeks or so after tryouts, and we did a lot of team building things," Slechta said.
The JV team took Slechta's advice and have what they consider to be the team's mascot, a plush Grumpy Care Bear.
"At our volleyball camp in June, some freshman started calling our coach 'Coach Care Bear', we decided to get him a Care Bear just as a joke and it became our team thing," sophomore player McKenzie Bates said. "We even have an Instagram account for it."