Making money isn't hard: Just get a job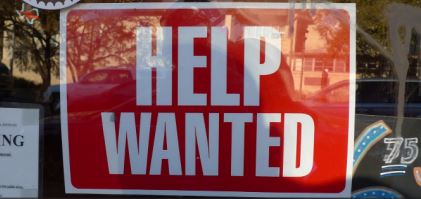 It's that time of the year. The end of school draws near, and the scramble to get a summer job begins. For many students, it may be their first job, and the process can be daunting. 
As a first step, keep an eye out while getting groceries, eating out and going out with friends. Many businesses have signs in their windows if they are hiring. No sign? Walking into a business to ask if they are hiring is also an effective way to find out if there is a vacancy and shows initiative.
"For students and part-time jobs, I would recommend making the personal connection of walking into a store and asking for an application," College and Career Counselor Elaina Kalantzis said. "That puts a face to a name, and it shows that students are interested in the job."
Making use of personal connections can also be a way to find a job. Family members or friends may be able to put in a 'good word' and help the process of landing the position move forward. 
"When it comes to actually getting the job, I literally had to do absolutely nothing because my dad worked there," junior Hudson Hiatt said. "No interview, no application, no anything."
As a last resort, online tools such as indeed.com and glassdoor.com can be used to navigate job listings within a community. However, they may not be the best option for students looking for short-term jobs. 
"Online search engines such as Indeed or Glassdoor can be an option but I have noticed that those are typically for full-time positions," Kalantzis said. 
Teenagers under 18 years old may find that they cannot work in all environments because of liquor laws, how dangerous the workplace might be or the type of work that is required. However, there are a variety of jobs for those with a work permit.
"Work permits are done for 14 and 15-year-olds to protect their safety and to put priority on their education," secretary Vicki Wagner said. "Some occupations are deemed 'hazardous'; therefore, the State does not want them working in connection with those occupations."
Work permits can be obtained by anyone 14 years of age or older at the Main Office. 
"The student first needs to be employed," Wagner said. "Once they have employment, there is a form that needs to be filled out by the student and the employer. After the form is completed, the student would return it to the Main Office with a copy of their birth certificate, a copy of their physical that is dated within a year of submitting the paperwork and a Letter of Intent from the employer.  When all paperwork has been received, a work permit can be done which is normally a 24-hour turnaround." 
After getting in contact with the business, filling out a job application most likely will be necessary. This provides the business with contact information as well as information regarding past work experience and personal references. 
"For students who are 15 or 16, most have not had any previous experience working," Kalantzis said. "That's OK.  We are living in a society that needs workers and are willing to pay above minimum wage for people to work.  In these desperate times, many employers look past the fact that students don't have experience."  
A key part of the application process is listing references, people who the business can contact to discuss the qualifications and skills of the applicant. 
"When asked for references, students should list adults they are not related to, who can say positive things about them," Kalantzis said. "A coach, counselor, trusted teacher or even a former employer.  Regardless, the student should always inform the person about using them as a reference."
Most jobs require interviews. This is the time that an employer will get their first impression of a possible applicant and can assess timeliness, interpersonal skills and other traits that they may want to see in an  employee. 
"In interviewing an applicant for a position, I think first impressions are very important," former owner of BrewBaker's Cafe Deneen Omer said. I think that attitude is critical. Be on time for the interview, smile and look at the person you are talking to when responding to questions. I also expect the individual to seem interested in the job by having at least one question ready to ask about either the position or the place of business."
The interview process is nerve-wracking for most people – teenagers and adults alike. What to wear? When to show up?  What should I bring? Who will be interviewing me?….It is a completely new social situation that can be hard to figure out without a few pointers. 
"Show up in clean, neat, proper clothes," Kalantzis said. "Make sure [your] hair is brushed. Don't chew gum. Offer a firm handshake. Look the interviewer in the eyes when speaking. Speak clearly and slowly. Most won't need to bring anything, since these are part-time jobs. I would always recommend showing up 10 minutes early, just in case you need to use the restroom or take a few minutes to prep."
After the interview, the waiting process begins. Employers will decide if, based on the application and interview, they are interested in hiring. 
"Contacting the employer after the interview is a great way to seal the deal," Omer said. "If you don't get the position, don't feel down and remember to keep your options open."