Cheetahs prepare for season under new coach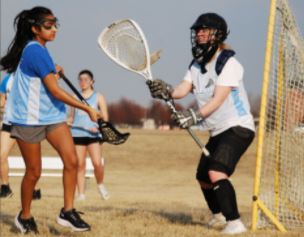 The Plainfield girls' lacrosse team began their season on March 21 under the supervision of new head coach Christian Pilapil.
Becoming the head coach of the Cheetahs is not Pilapil's first encounter with lacrosse. Previously, he developed and started lacrosse programs as well as rebuilt teams in the area.
"I have personally loved every journey because there is always room for growth," Philapil said.
The team is made up of players from all four Plainfield high schools. Every other school in the Southwestern Prairie Athletic Conference has their own girls' lacrosse team, which sets the plainfield team apart.  Cheetah team members feel they are at an advantage with this unique arrangement.  
"The best part is the girls that you play with, because all four  schools in the district play together, so you get to become friends with people you probably might not have even met if I didn't join the team," North junior defensive player Ava Koziel said.
Pilapil and the Cheetahs are beginning the first full season since 2019.  
We have a variety of talents coming in this season, and we want to build a program where everyone knows they have a place and purpose with the team," Pilapil said.
For some of the girls, it is a relatively new sport and the first time they picked up a lacrosse stick was in high school.
"I joined the lacrosse team because I wanted to try something new," Koziel said. "I grew up watching my brother play all the time, so I was familiar with the sport and finally decided to do it myself." 
The main focus of the team this year is to win more games than the previous season . The key, according to Pilapil, is to first focus on the player.
 "Our main focus is that every player develops into a stronger, dedicated, and more confident player, who will use their experience this season to assist others for the next," Pilapil said.
Recruiting new players has been a challenge for the past few seasons. Koziel believes that the sport is not well known in the area which affects its popularity.  
"We have overcome this challenge by utilizing the more advanced players," Koziel said.
 The team works to keep the practice and game environment positive and supportive by encouraging each other.
"We always warm up with blaring music and hype each other up, and throughout the game, everyone cheers their teammates on and celebrates together," Lowe said.
Many of the girls play club lacrosse outside of school but still come back to the Cheetahs for the excitement of the game and the camaraderie.
"I love playing games for my club team, but something about stepping on the field with this team gives me such an ethereal feeling because we have so much fun playing together," Lowe said.
For most of the girls, lacrosse has become a place not only to play, but to have fun with each other.
These guys have become a second family to me, and I am so thankful for each and every one of them," Lowe said. "I love this team and the fun we have on and off the field."