Prom preparations require early start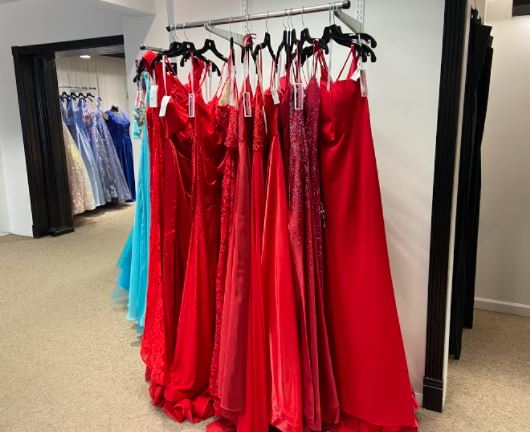 Sparkly dresses, a dance floor, limousines: prom is an  exciting time of year for many students as a celebration of the culmination of an eventful school year and the end of high school for Seniors. 
The venue:
Prom will be held  at the Museum of Science and Industry on Friday, May 6. This is the third time North will hold prom at the Museum.
"I think this will be a fun location because it's a really nice venue, and it will make prom feel different from all the other dances that are just held at the school," Student Council Vice President junior Rohan Patel said.
Tickets cost  $130 per student and can be purchased prior to prom. Parking is included in the cost, but students also have the option to take a chartered bus for an additional $30 fee. 
"At first I thought it was way too expensive, but then I thought about where the dance is, and I think it's actually a pretty reasonable price," junior Hannah Laube said.
In 2019 the theme was a night under the stars. This year the students voted between a summer in Venice, enchanted forest and roaring 20s.
"The theme is still undecided, but we're leaning toward a summer  in Venice," Patel said.
Fashion:
For most girls, an  important aspect of prom is finding the perfect dress. While trends are ever changing, according to Patel, this season is all about individuality.
"The best trend is just dressing in what you like and what makes you feel good," Patel said. 
With the long break from dances, students have had the opportunity to find their style. Having a good idea of what a student's style is makes shopping for prom dresses all the more exciting.
"Slim styles seem to be very popular this year," The Prom Shoppe manager Jessica Diebold said. "But, because of the long break and everyone having a chance to discover their own styles, people are much more open to being unique."
While it's always nice to dress differently, knowing what's on trend ensures nobody looks awkward amongst their peers.
 "I think silky and satin dresses will be very popular, dresses with the cowl neck as well," junior Rina Manxhuka said. "I feel like green is really popular this season, and black is always popular."
Of course, old trends are making their rounds for prom as well. A lot of girl's are getting their inspiration from earlier decades.
"I've noticed a lot of girls choosing nineties-esque prom dresses, very gothic nineties," Laube said.
For more basic and affordable styles, prom dresses are available online and in person at stores like Windsor, Nordstrom and Macy's.
Local stores like The Prom Shoppe in Oswego and My Daughters Dress Boutique in Yorkville, offer more unique styles. The Prom Shoppe takes down the client's name upon entry and ensures that nobody else from the customer's school will have the same dress.
"This is nice because it's really awkward when you see someone wearing the same dress as you when you thought you were going to look one of a kind," Laube said.
When it comes to finding a dress, the earlier the better. Make sure to go at a time where all the styles are still in stock so finding the perfect dress is much easier.
"The best time to go is definitely during or before spring break," junior Gianna Jaronik said. "Never wait until the last minute because almost every dress that could've been yours is gone."
Mens Prom:
All the prom fun doesn't have to be limited to the women. Men's suits are just as important as a dress. 
"The style for men is black tie, [and] navy blue is always a good look," Patel said. "Wearing a different color tie, other than black, is always fun and a way to avoid looking basic." 
Men like senior Jake Sinclair like to get creative when it comes to prom fashion. Last year, Sinclair rocked a two piece black gown and a slick back hairdo during prom season. 
"This year I was so close to choosing another more feminine outfit like last year," Sinclair said, "However, I have decided to opt for more androgynous take on the traditional prom suit, I was thinking something patterned or sparkly."
Accessories:
Accessories can make or break a look. When it comes to jewelry, dainty pieces tend to add to the overall look opposed to taking away from it.
"Smaller jewelry items never fail to bring a look to the next level, whereas too many statement items can take away from the look and make it seem overdone," Laube said.
Shoes can completely change a look as well. Wearing classy heels can elevate the ensemble and make it more formal, whereas wearing sneakers can dress down a look but provide hours of comfort for dancing.
"I think whatever shoes you wear, just make sure they match the scheme you're going for," Jaronik said. " Like don't wear hot pink shoes if your dress is black and yellow, it just won't look good."
Not breaking the bank:
In order to not go broke, stick to a budget. Prom dresses can start at as little as $30 and tower into the thousands. It's already difficult to find the perfect dress, but finding one that doesn't break the bank is another challenge in itself.
"Making sure you have a budget is important, because then you're able to selectively look at options that fit your budget versus finding out a dress you love is too expensive," Laube said.
A good way to keep the large price tag that comes with prom shopping down is to shop second hand.
Stores like Poshmark, Ebay, Etsy and Depop are all online stores that offer thousands of options for unique dresses. Sustainable fashion gives a different experience to prom shopping.
"Shopping second hand is definitely cheaper, it's better for the environment, and it gives you a different look," junior Makayla Rivera said. "No one will have the same dress, and you'll be more unique."
Other online stores like eshakti.com offer custom dresses starting at $50. This is a great option for somebody who wants to ensure their dress fits perfectly.