Swinging into Season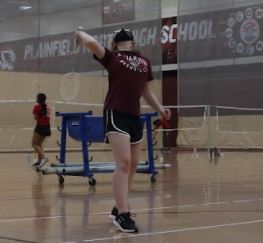 North's girls' badminton team serves the fun backyard game into competitive play.  Striking the shuttlecock, or birdie, during early season practices helps prepare them for their first home invite on March 19.  
Half the 2021 team graduated, so the Lady Tigers replaced them with freshmen and sophomores players after a strenuous tryout. 
"There was a lot coming into tryouts this year considering this is the first normal season in two years," junior captain Iniya Krishna said. "The varsity standards were very tough, but the girls pushed through and gave it their all. The freshmen and JV girls had to work on their technique and learn some skills and ended up putting up great tryouts. Overall, we are all looking forward to this season and it's gonna be a great team."
Since badminton is a team sport, the veteran girls are aiming to connect with newcomers and get into hard, close practices.
"The goal for this season is to really focus on our footwork and building up our endurance for the games," Krishna said."We also want to work on mastering the different skills which will help us tremendously during the matches." 
Besides new players, English teacher Samantha Moffett takes over as new assistant coach.
"I was not here last year for coaching, but the ladies played very well during their season," Moffett said. 
Early in the season, the focus is on skill building.
"In terms of some of the current fundamentals they are working on, they are working through a run through of the basics and more strategic game play," Moffett said.
"There is a good mix of girls this season and I know they are going to do great this season," Moffett said. "They are working very hard and I know they will succeed. All of the coaches are very proud of them."