Students get their funk on
Students  were invited to unleash their inner hustle, get funky and boogie through North's homecoming week from Oct. 4-8.
Festive decorations lined the main entry way to fit this year's homecoming theme, disco.
"When we planned with last year's executive board, I suggested disco," math and science 
department chair Ginger Brest said. "They all loved the idea, so we went with it."
The week leading up to  the Oct. 9 dance was filled with spirit days and after school events.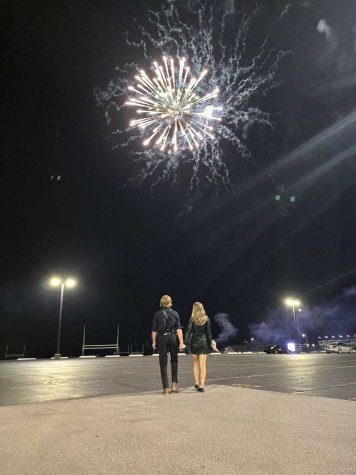 The students and staff also showed their Tiger spirit by dressing up for themed days such as Decades Day. Senior Sam Skiba wore a green dress, orange jacket, and had her hair tightly curled for her 40s style inspired outfit.
"I chose this outfit because I really like vintage fashion," Skiba said. "The 40s had really interesting fashion that is fun to learn about and recreate."
Homecoming week evening activities kicked off with a movie on the football field. Students were invited to watch "High School Musical." Many students brought blankets and laid out under the stars.
"High School Musical is a good throwback movie," senior Kotryna Rutkauskas said. "Everyone knows it and enjoys watching it. The movie night was just a fun way to hang out with my friends." 
This year, there  was also a food truck serving  barbeque-styled food available for purchase. 
"The food was good, but very overpriced," sophomore Sebatian Piton said. "$14 for a sandwich is way too expensive, and the food was not of that quality. The people working there were polite, 
and the guys making the food gave me a bag of chips."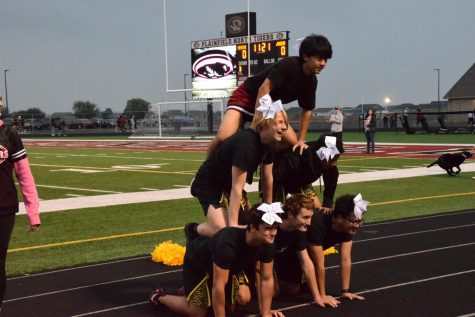 On Wednesday  students came out to cheer on their Lady Tigers and watch the guys perform at halftime during the powderpuff game. The ladies played a fierce game, and the juniors won by a score of  23-22.  
"It was a really close game," junior Eva Forrest said. "The end was really nerve racking, but I think it was a well deserved win for the juniors. That being said, both teams did great and regardless of the outcome, I was happy to be there."
Due to her positive experience this year, Forrest  looks forward to playing again next year.
"Powderpuff was not what I expected," Forrest said. "It was way more fun, and with the two practices we had, I feel like I got to know so many more people and made a lot of new friends. The energy was great the whole time and the love I have for this team is crazy. I cannot wait for next year's powderpuff. I will definitely make the most of it."
The powderpuff game was followed by a bonfire. Students could purchase food, play a soccer game involving a huge inflatable bullseye and dance to music.
"It was nice to see all of my friends at the bonfire," senior Angelina Pardo said. "It was good to have the bonfire back since we did not have one since freshman year. I had a lot of fun." 
On Friday, the football team took to the field against Minooka.  In front of a packed stadium, the Tigers won 14-0.  
"I thought the football team had a great performance against a very good Minooka team," head football coach Anthony Imbordino said. "All three phases; offense, defense and special teams played extremely well. The coaching staff was very proud of how our team fought throughout the game. Our athletes were excited for the victory and to give all the alumni a great homecoming win."
Homecoming week ended on Saturday with a new twist on the traditional dance.  Due to indoor mask restrictions, the dance was held on the football field instead of in the gym. Students were able to chat with friends, grab a snack and dance to music while dressed in their best attire. 
"Decorations were limited, so preparation was minimal," Brest said. " Mr. Draper had custodial staff help with setting up the giant Tiger which became the focal point of the Dance.  We added a few balloons for photo ops.  PTSO decorated  the concession area and provided snacks."
To cap off  the week, students at the homecoming dance were surprised with a fireworks display at the end of the evening.
"The fireworks were definitely a nice surprise," Pardo said. "I think they were a nice touch to finish off a not-so-normal homecoming week."
Student Council President senior Tvisha Baxi believes that homecoming was a hit amongst students. 
"People enjoyed the outside setting," Baxi said. "We had a lot more participants during spirit 
week, and the events than ever before, so I am really glad people were able to enjoy homecoming week safely."