Not all accidents are happy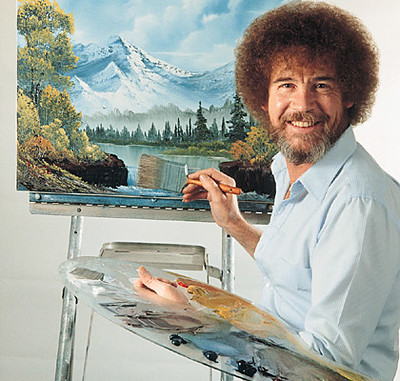 Bob Ross, the landscape-painting cultural phenomenon, is known for his long-running television series "The Joy of Painting." However, the documentary "Bob Ross: Happy Accidents, Betrayal, and Greed", shows a side of his life that isn't as joyous.  
Released on Aug. 25, director Joshua Rofé with producers Melissa McCarthy and Ben Falcone's documentary provides a more well-rounded picture of Ross's life both on and off camera. Ross's son, Steve, who some may recognize from the series, fills in to tell his father's story. 
For those who found comfort or enjoyment in "The Joy of Painting,"
this documentary may be hard to watch. It sheds a new light on the struggles that Ross faced, including his battle with Lymphoma. Prepare to leave this film feeling a whi
rlwind of emotions.
The artist started painting f
or fun while in the armed forces. By sheer chance, he ended up on his hit show  From then, his TV persona and fame skyrocketed. However, life can't always be, as Ross would say, 'h
appy accidents.'
Bob Ross, Inc. is a business that makes everything Bob Ross related from chia seed planters to  sketchbooks. The owners of this company, Annette and Walter Kowalski, saw an opportunity to make a fortune soon after Bob Ross started his "The Joy of Painting" series. After making a name for himself in the art world, the Kowalski's became obsessed with the personal and business ties they had to Bob and his brand. From that moment his personal life started to fall from his grip. 
The documentary tells the story of Ross's life and legacy in a heartfelt and compelling way. Rofé reminds viewers of Ross's successes through old photos and art, even when darker themes such as heartbreak and grief appear in the film making. 
Friends, family and business partners beautifully described Ross's story. They recount tales of him behind the scenes, speaking of the way he would enter the studio to record and instantly put a smile on his coworkers' faces. 
Rofé succeeds at showing h
umanity in Ross, proving that the man who grew to accept the imperfections in his artwork also had to learn to do so in his life. Viewing the struggles of a figure who was seen as a stable constant is striking, allowing viewers to see his life in a new way.
"Bob Ross: Happy Accidents, Betrayal & Gr
eed" paints an insightful, new picture of the life of Bob Ross. Whether familiar with Ross or not, this documentary touches on a variety of subjects, making it a good watch for a large audience. The film was well thought out and worth the hour and a half watch time. 
Bob Ross: Happy Accidents, Betrayal & Greed
Not rated. Running time: 1 hour 32 minutes