2000s fashion makes a comeback for new generation
Low-rise, bootcut, baby tees and frosted eyeshadow. Fashion has kicked it back 20 years. With the current resurgence of Y2K icon, Paris Hilton and hit movie series "Twilight", 2000s fashion has taken closets everywhere by storm. 
For most of us, the last place we would think to look for clothes is mom's closet, but now breaking out mom's favorite mini skirt from 2003 is the new cool.
"I wear something from my mom's closet four out of the five days of the week,"  junior Gianna Jaronik said. "I've gone through tons of bins of clothes that she used to wear in college, [so] I rarely ever buy new clothes."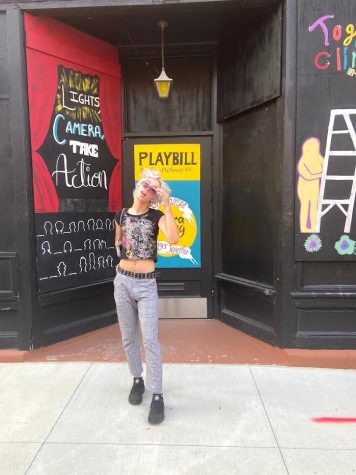 Moms feel nostalgic about their teens wearing some of the trends from their adolescence.
"I absolutely love seeing fashion trends repeat themselves," Jaronik's mother Amanda said. "Seeing my daughter wear similar clothing as I did in high school brings back so many great memories."
After years of high-waisted mom jeans being all the rage, low-rise has filled the shelves of popular stores once again.  Holister recently dropped a new collection of low-rise and flare jeans.
"I truly love low-rise pants," junior Abigail Davis said. "They really connect modern day fashion with fashion of the past. Plus, they make your legs look great." 
On the other hand, low-rise isn't always the most popular among those who had to live through it the first time.
"I'm not really looking forward to the low rise pants coming back," Amanda Jaronik said. "I had to deal with them in high school, and I just don't want to deal with them again. Not everyone can pull them off and they just don't have the same comfort that high-waisted offers. The high waisted pants are much more friendly in that way." 
Social media star and fashion influencer, Caroline Ricke, has been known to sport some of the biggest trends of the 2000s. On her Tiktok account, Ricke portrays a rich, snobby character similar to Paris Hilton and Nicole Richie's roles on their 2003 reality television series, "The Simple Life." Ricke shares that most of her 2000s style is found in thrift stores or online shops such as Depop. 
Ricke is famous for  wearing baby tees with flashy logos such as Bebe. Other brands from the 2000s such as Juicy Couture, Ed Hardy, Von Dutch and Baby Phat have recently been hot products sought after on reselling apps like Depop and Ebay. 
"They radiate 2000's fashion e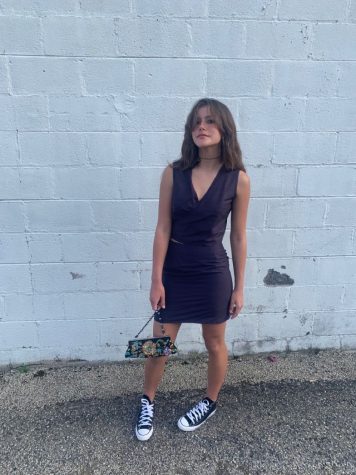 nergy, and if I could own everything they make, I would,"senior Jake Sinclair.
Many other social media influencers and celebrities along with Ricke, have impacted the world of fashion through Tiktok. 
My biggest 2000's fashion inspirations are definitely Britney Spears for her ability to make a graphic tee "lazy fit" look fashion forward," Sinclair said. "I also really like Paris Hilton and the way she can rock a tight top or low rise pants." " 
Sinclair is also influenced by both online as well as brick and mortar resale sources.
"I have been getting the most fashion inspirations from instagram or Pinterest looks that are also inspired by 2000's fashion," Sinclair said "Another great source of inspiration for me is visiting the local Goodwills in my area and scavenging for pieces that fit the vibe that I'm looking for."
With thrift shopping becoming the most popular way to shop amongst teens, Y2K fashion has found itself in most wardrobes.
"When I go shopping, I usually find myself at thrift stores or vintage shops," Gianna Jaronik said. "Goodwill always has great finds. Ebay is also an awesome way to find vintage pieces at really cheap prices. It's basically like online thrifting." 
Celebrities including teen pop star, Olivia Rodrigo, have been loving the 2000s trends. For her hit song and music video,"Brutal", Rodrigo rocks a totally 2000s wardrobe. Rodrigo tends to reach for mini skirts, halter tops and matching bell bottom sets.
Juicy Couture tracksuits have once again made their way into mainstream fashion. Forever 21 has launched a line of Rhinestone Juicy tracksuits. The clothing line features matching, velour jogger and zip-up sweatshirt sets in six different colors.  
"Velour tracksuits were the best; they turned sweatpants into fashion," Amanda Jaronik said. "They're so comfortable;they were my go-to lazy-day outfits."
Kim Kardashian also has been sporting her very own brand, "Skims" tracksuits. She even had Y2K icon Paris Hilton model her new, modern take on the tracksuit.
Even though  many trends are making their comeback, it's better that some popular fashion choices from the 2000s are left behind. 
"I absolutely hate capri pants," said Sinclair. "They are a monstrosity to fashion in my opinion. Abercrombie and Fitch shirts were so popular back then, and I hope they never ever come back."