Caroselli Sets Up For Success
Softball, soccer, dance. Many children spend part of their childhood flitting from one activity to another. For junior Nancy Caroselli, trial and error was the key to figuring out her true passion. 
From a young age, Caroselli had an interest in sports. 
"I used to be a dancer, until 6th grade," Caroselli said. "It just wasn't for me. I didn't feel at home."
After moving away from dancing, Caroselli decided to give volleyball a try.  Playing volleyball ran in the family. Caroselli grew up hearing about it from her mom..
"She looked at me and said, 'try out for volleyball,'" Caroselli said.. "It was a lot of pressure. and I really felt like I had to live up to her expectations."
Though heavily encouraged by her mom, Caroselli described feeling like she belonged in the sport. Her first games were nerve wracking, but she believes learning to cope made her a stronger player. 
"I had really bad anxiety before I played a game," Caroselli said. "Having teammates to calm me down and make me feel confident in myself allows me to not feel anxious anymore."
This early connection with her teammates allowed her to build her social skills. The ability to communicate effectively has  also assisted her as her volleyball career progressed, while also teaching her life skills. 
"You get really close with all your teammates, and the bond is indescribable," Caroselli sa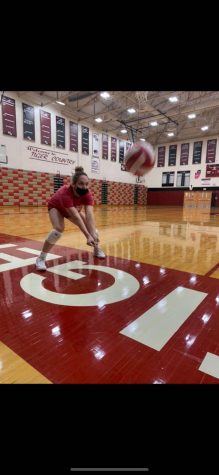 id.. "One of my main goals is to really have that bond this year with the rest of the varsity girls."
Caroselli added that volleyball "…has helped me grow my confidence and time management,
 [and become an]overall a stronger person." 
Progress doesn't come easy, and some would argue putting in the time and effort is just as important as natural born skill. Lucky for Caroselli, she is committed to improving. 
"I started to put in a lot of training and go to the gym every day to get into good physical shape for playing," Caroselli said. "It's gonna take a lot of time, and I had to learn that success doesn't come on the first try."
As Caroselli advances in the sport, she feels more pressure to be the best version of herself.
"I try to think about the next play rather than the mistake I made," Caroselli said. . "My current coach, Matthew Sletca, gives a lot of good corrections that help me to do so."
This season Caroselli is a libero on the varsity team.  Liberos are considered  one of the best passers on the team. 
"It is my favorite position and makes me feel very confident playing," Caroselli said. "I love being libero [and] it takes so much responsibility being the person your 
teammates rely on for digs is important to the team." 
The pressure is worth it for Caroselli, as her goal is to continue her volleyball career as far as she can. 
"My goal is to win state this year," Caroselli said. "Ultimately, I would like to play in college."