Students Show School Spirit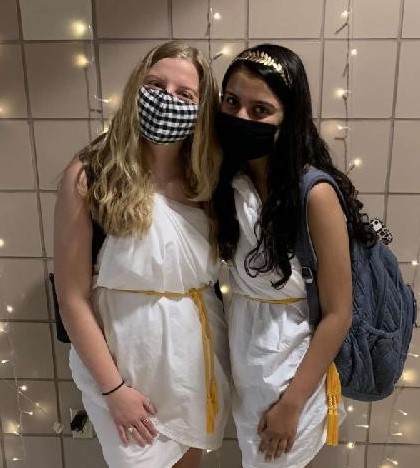 Which teacher worked in the circus?
Which teacher used to be a zoo keeper?
In a break from tradition, North Student Council hosted two weeks of spirit for students from April 19-30 including both indoor and outdoor activities. Though typically a fall activity, Student Council decided to not only move it to spring but to extend it into a two-week celebration.  
"I can say that we decided to hold Spirit Week later in the year because it usually coincides with homecoming," Student Council adviser  Ginger Brest said. "Because we didn't have a typical Homecoming this year, we decided to align spirit week with "fall sports" which actually ran this spring." 
In preparation for Spirit Week, Student Council members decorated  the hallways in order to get Tigers into the school spirit. Each hall was decorated with a specific time period in mind: the freshman hall was decorated with a nod towards the roaring 20s, the sophomore hall was rocking an 80s style  while the junior hall was designed with references to the groovy 70s. 
"Student Council decided to do Spirit Week because it was a way of bringing our students together and an escape from the reality we live in now at school," Student Council Vice President Tvisha Baxi said. "It was a way of taking a break in a way students can participate and have fun."
Week one events included Pajama Day on Monday, Tie-dye day for Tuesday, wacky hats on Wednesday, favorite team or sports jersey on Thursday and the week ended with North spirit themed clothes. In addition, there was also sidewalk drawing on Wednesday and a  "Facts about PNHS" Kahoot game held on Thursday.  For example, What teacher used to be a zoo keeper?  That is Science teacher Anthony Dellamorte.  What teacher worked in a circus?  PE teacher Amanda Viece.
"Staff and many students participated in daily dress up days and were encouraged to join the sidewalk chalk decorating and the Kahoot game," fellow Student Council adviser  Rachel Hidalgo said. "It was a fun way to celebrate PNHS, and we were happy with the amount of participation considering our current hybrid mode."
Senior Spirit week is usually held during the class's last week of school; however, it was decided to hold it the week prior to the Senior Gala on May 1.  
"Typically, it coincides with the last week of senior attendance and is the same week as the senior brunch," English and social studies division chair Brandie Schlott said. "However, because of the limitations with senior activities, we decided to host the senior spirit week leading up to the Senior Gala."
The Senior Spirit Week contained traditional and popular themes such as toga day and senior citizen day.  
"I think that it is a fun and respectful way for students to unwind and enjoy themselves while demonstrating school spirit," senior Amrut Behera said.