The devil of all time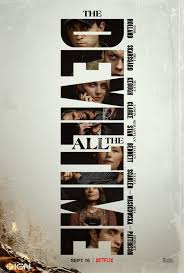 The Netflix original, "The Devil All the Time" is a mystery thriller movie that has people hooked from the beginning. It explores how violence and trauma is passed down from generations abd how people will do anything for love.
  The story takes place in two different towns: Coal Creek, West Virginia and Meade, Ohio. Multiple plot lines go on at the same time and when continuing through the movie, the viewer watches them all connect and interact with each other. One plotline is of a boy, Arvin Russell (Tom Holland) who travels from Ohio to live with his grandmother and step-sister. 
The second storyline is of Carl Henderson (Jason Clarke) and his wife Sandy (Riley Keough) drive around West Virginia and pick-up hitch-hikers and would lie to them to ultimately force them into having a provocative photoshoot with them and eventually kill them to leave no evidence. 
The final storyline is about Sandy's older brother, Sheriff Lee Bodecker, knows his sister is up to no good and tries to prevent her from ruining his reputation of losing the upcoming election to become the new sheriff.
Arvin Russell (Tom Holland) is a boy in his late teens, who has gained a lot of childhood trauma from his parents at a young age. He takes most of his traits from watching his father while growing up from the anger issues to protecting his loved ones at all costs. Arvin takes care of his step-sister Charlotte Russell (Haley Bennett) who is bullied by the boys in her school. She eventually meets the new reverend in the town, Preston Teagardin (Robert Pattinson) and she starts spending a lot of time with him.
Many popular, top tier actors are in this film including Stan and Holland, who are known from the Marvel movies. Robert Pattinson ("Twilight" series) also appears in the movie.  Bill Skarsgård, who was the clown in "IT," shows up in the film as well. British actors, Holland and Pattinson, had to speak a southern American accent and they were fairly good. 
The overall story was intriguing, and there was a plot twist every other scene. There's a lot of drama and murder which keeps the movie eventful and fun to watch.
Without a stable linear plotline, the viewer is often confused as to which story is currently being told. A jumpy timeline does not help. The plot jumps forward five months in one scene and goes back seven years in the next.
Antonio Campos is the director of this film. He usually works on drama and thriller films, so this movie is in his wheelhouse. He is most known for directing other films such as "Afterschool", a drama film about a student who accidentally films the deaths of two classmates, "Simon Killer"and a thriller about a recent college graduate who takes a trip to Paris and unleashes his dark side. Campos know how to work suspense and murder in a new way that gets people to want to watch more.
The movie is rated R for mature audience because it includes violence, bloody/disturbing images, sexual content, and explicit language. Only viewers  that are eighteen years or older should watch this movie or at least with parental guidance. The rating is pretty justified based on murder and explicit content.
This movie is the most intriguing mystery thriller so far this year. It really shows the cycle of killing and the corruption that lies just beneath the surface of civilized society.