Cheer jumps into Season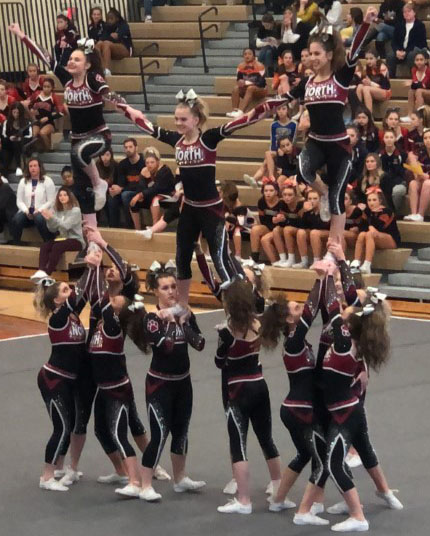 Competitive cheer flips into action as they wrap up their season.
Although cheer is year-round, the competitive season lasts all winter allowing the girls to showcase their talents and skills to judges.
"On the sidelines it's more laid back and we are cheering for a team, but during competitions it is our time to show what we can really do," senior Breanna Riley said.
The program is experiencing a down year, but the girls continue to work on their game and grow together as a team.
"Our season has had a lot of ups and downs," Riley said. "We have all come together, and it's been a good season for us so far."
The girls haven't placed high in tournaments, but they continue to grow together as a team and help each other improve.
"It's been chaotic, but I've never felt closer to my teammates," senior Aubree Munno said. " It's been a great way to finish my cheer career."
This year the team decided to empower all the girls and did not name any captains because they believe all of their girls are leaders.
"This was decided because it is in the name cheerLEADER," physical education teacher Kristin Drake said. "All of the girls are very respectful and receptive."
There have been many highlights this season, but a favorite of Munno is being able to bond with her team.
"My favorite part about competitive season is being so close with the other girls," senior Aubree Munno said. "It's so fun hyping each other up on the mat and getting to feel every win and loss as a team."
The girls went into this season trying to maintain a positive outlook and being proud of the effort they put in.
"Our goal is to finish the season strong and be proud of what we accomplish," Riley said.