North welcomes new furry friend
Ireland Shelton, Features Editor
September 23, 2019
Sit. Stay. Shake. Roll over. Bark. These are not normal everyday tasks for the staff at North; however, for one unique staff member, this is just another day on the job.
Chloe, a 2-y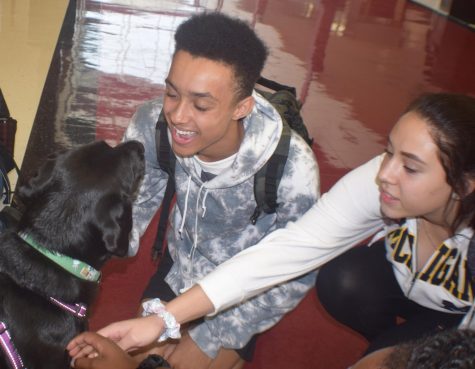 ear old, black lab, is North's new therapy dog.  Assistant Principal of Student Services, Art Stafford, made the decision to bring Chloe into the school.
"A few years ago, when I was still teaching sociology, and when we did the project with Prospect [High School], they had a therapy dog," Stafford said. "That is where the inspiration came from."
Chloe stays in Student Services with counselor Rebecca Voss, during the school days and is available to any students who wish to meet with her.
"[Students have access to meet with Chloe] at all times," Stafford said. "[We've been] rotating through study halls. [However,] if students are allergic to dogs or scared of them, we try not to force the relationship. It is always by choice."
Senior Carson Jennings has met with Chloe a few times before, and she has helped him get through his school day.
"I'd say as a whole, Chloe never fails to brighten my mood," Jennings said. "Regardless of it's just a mediocre day or if I'm feeling a little down, just being able to forget the day and chill for a while always leaves me happier,"
Voss and Chloe have been traveling to different study halls to introduce Chloe to students.
"[We're] teaching students how to properly approach her," Voss said.
Chloe is still getting adjusted to life as a Tiger.
"The hardest part [was]  getting her acclimated while school [was] starting," Voss said. "We're getting better. She hasn't really been around this many people and smells, [but day by day] she is getting better at interacting."
Like any therapy dog, she needs some time to get used to people, and she will get scared if students attempt to pet her head.
"Even last week she wouldn't be as friendly [as she is today]," Stafford said. "Don't get offended [if she doesn't come up to you right away]. She takes some time to get warmed up."
Chloe finished her training with the Indiana Canine Assistant Network (ICAN) in June. The training program focuses on positive reinforcement and they do not scold a puppy for incorrect execution.
"[They teach] basic stuff and then they decide where the dogs should go [and what kind of service they should provide] based on personality," Voss said.
Chloe specifically, was trained to be a therapy dog for mental issues such as anxiety and depression.
"Most kids will ask [their counselor], and I will bring her," Voss said. "[She's also good] for a quick pick me up in the hall."
Chloe's main objective every day is to help North students feel better and hopefully add a little happiness.
"ICAN [has done research] that shows how dogs can bring down stress and anxiety with a 10-15-minute interaction," Stafford said.
Just stopping by to see Chloe or watching her make her way through the hallways can instantly boost a student's mood.
"Having Chloe within the school lets people who just want to escape the day for a short time be able to focus on something else for a brief time and will boost overall morale," Jennings said.
Just like any other staff member, Chloe gets to relax in the comfort of her own home after a long day of dealing with high school kids.
"Chloe lives with me during evenings and on weekends," North social studies teacher Kristen Kolmodin said. "However, she is always very excited when we arrive at school and she can go to work."
Chloe can help any student at any time and students and staff at North so far seems to love her.
"Overall, the vibe is positive, the message is come use her as you need her; she's here for all students," Voss said. "She's here for the good, the bad, the sad and everything in between."