Tragedy can breed inspiration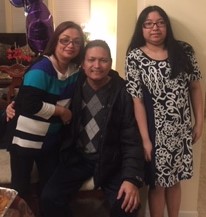 Hang on for a minute...we're trying to find some more stories you might like.
At the start of my freshman year of high school, everything was very new to me. The hallways were bigger and there seemed like an endless number of classrooms. It was difficult for me to find my way. So, I had to follow the signs in each hallway in order to find the right classroom.
Last semester, Mr. Quimby came up to me and he told me about an art competition that I was writing about for my journalism class.
He encouraged me to submit one of my own pieces into the art competition. Since my original choice piece didn't work out how I wanted it to, he helped me tremendously by offering the good idea of using the wooden blocks that I was already using for my class project.
Even though I didn't win, it was still cool to participate because I had never entered an art competition like this before.
My plan after high school is to go to a four-year college and get my bachelor's degree in exercise and movement science, so that I can become an occupational therapist. I chose this career because I want to be able to help people and since my dad was a physical therapist, I want to follow in his footsteps and have a job in the medical field. Before my dad passed away this year in February, we talked about what career I wanted to have. At first, I wanted to do physical therapy, but he told me that it would take longer, so I decided to go into occupational therapy to help people with disabilities do things like brushing their teeth.
The biggest inspiration in my life is my dad because he was a very strong person who was a fighter during his time with cancer. Four years ago, my dad was diagnosed with stage four lung cancer, and it was highly unlikely that he would survive it more than a year. By a miracle he was able to stay with us until this year. I didn't know he had lung cancer until last year when he was getting radiation therapy and chemotherapy for it. This year, his symptoms got worse, so my mom and his brother had to take him to the hospital. This happened during my birthday party and before he left, I took a picture with him.
During the month of February, we visited him every day in the hospital. On the first few days, my mom stayed with him, and he started having small seizures. I didn't know why he had these seizures until the doctor told us that the cancer spread to his brain and his rib cage. As a family, we all met and decided that we didn't want him to suffer any more pain. Even so, when he died, it was like my whole world fell apart.
One thing that I have learned through my experience at North is that when a tragic event happens, you can always talk to someone about it because talking about it will make you feel better. When I cried after talking to my study hall teacher, she took me to Student Services so that I could talk to my guidance counselor. I had to talk to a social worker instead, and I talked to her about my father's passing and it made me feel a lot better.
Sometimes I feel like nothing will ever be the same in my life. Even though, he can't see me graduate from North, he'll be with me in my heart.