Tigers eyeing second half of season
With a 1-1 record to start the year and 7 games left in front of them, North varsity football is still optimistic about the rest of the season.
In the first matchup of the new season, the North Tigers took on the Joliet West Tigers at home.
The North Tigers finished last season with an 8-3 record including postseason action and the regular season. They took care of business in their first playoff game with a 42-6 blowout win at home over Andrew but lost the next week to the Lake Zurich Bears 27-9.
"We definitely take it one game at a time and don't take any games for granted," head coach Tim Kane said. "We prioritize on getting better every week and competing each down."
On the other hand, the Joliet West Tigers finished last year with a 5-5 record losing their opening round playoff game to Lincoln-Way East 44-0.
"Our goal of course is to be state bound," senior lineman Kenny Schinke said. "Personally, I can speak for everyone that being able to fight for that ring would be an amazing experience and journey."
The North Tigers opened with a dominant 16-2 lead at halftime with touchdowns from juniors Jaylon Tillman and Nate Simpson.
"We came out with a lot of energy and got up on them quick," senior linebacker Alex Nowak said.
Joliet West came storming back, however, as they scored two touchdowns and took a 17-16 fourth quarter lead. West's Jaylen Taylor ran in for an 18-yard score and QB Alfonso Sanchez ran in another 7-yard TD with 7:44 remaining.
"It was a hard-fought game," Schinke said. "But we found a way to pull out the victory with our intense halftime talks and most importantly coming together to achieve a common goal, as a team."
North was able to put a drive together and junior Eben Heine made a 42-yard field goal to take a 19-17 lead at the 3:38 mark. Sanchez would then throw a crushing interception to Heine with 45 seconds left that would cost them the game.
"We fought hard against Joliet West and dealt with adversity," Heine said.
Senior captains Greg Budig, Nowak, Nate Curtis, Garett Cook and Anthony Elkareh all helped lead the team to a win with leadership and doing their jobs on the field.
"We choose athletes that are good leaders on and off the field," coach Sean Carlson said. "They are chosen to be the face of our program."
Kane was straightforward with his response to his coaching goals this season.
"My goal is no different from the kids," Kane said. "It is important to learn and grow and to know them as people. I also do the best I can to give them a good and successful experience."
In North's second game of the season, they faced the Plainfield Central Wildcats in back-to-back home games to start the year. Unfortunately, the game didn't go as expected, as numerous weather delays and inefficiency on offense led to a 7-6 loss.
"I think we just showed up thinking that they were going to win, and you can't do that," Heine said. "We have to come out and play hard every single game."
The first score of the game resulted from a controversial pass interference call against North senior cornerback Kyle Sahli on fourth down in the second quarter.
"The things we took back from the game outweighed the negatives," Schinke said. "We have been working all week to perfect our game and where we went wrong Friday night, during a shootout of mistakes."
Following over an hour of lightning delays, North's offense finally responded with junior Marcellus Moore scoring a receiver screen touchdown. However, Central blocked a potential game-tying extra point that ended up costing North the game.
"Our game plan for Oswego has minimal change," Schinke said. "We plan to bring more physicality and play with a spark of vengeance."
North ended up falling to Central as neither team was able to score more than one touchdown each. They move on to face the Oswego Panthers on the road next week.
We are only guaranteed nine games a season," Nowak said. 'So, focusing on each opponent that week helps us stay motivated. Against Oswego we plan to focus on doing our job and playing every play like it's our last."
With a week of preparation and focus, North players fully expect a competitive effort and game against Oswego.
"We fixed up our offense and defense and had 4 really good practices this week," Heine said. "We have no intention of losing to Oswego."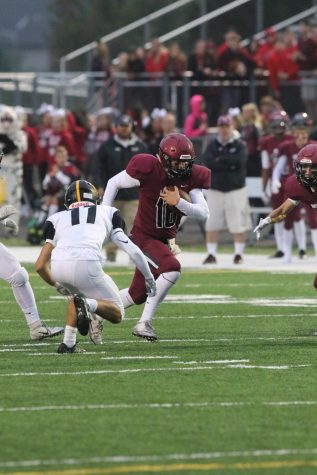 Running for the endzone, North senior quarterback Greg Budig rushes from the pocket to the left and tries to avoid a Joliet West Defender.