Tigers back heel into new season
Hang on for a minute...we're trying to find some more stories you might like.
Boys' soccer season has once again begun, but this start to the season has in a more positive upward direction for the Tigers than last year.
Beginning the season on the road, the Tigers were quickly tested during an opening game against Geneva where the Tiger came out with the win 1-0. It was a good start to the season and a good readied the Tigers for their next match.
"It starts with our summer camp, early in the morning when everyone else is sleeping, we're working hard in the weight room and on the field improving our game," junior Adan juarez said.
Winning conference is another achievement that the Tigers want to accomplish. Starting this season strong is in part due to the dedication and hard work the Tigers are putting in. Hoping that it results in a conference title.
"I'm not worried about our roster because I know our roster is strong and capable of showing up when it's needed to," senior Patrick Elster said.
Senior players know what it takes to become a winning team and the circumstances that need to be set in order for that to play out. All nine seniors are playing on the varsity level for their third straight year. Captains Elster and senior Brian Bertoni understand that it's time to take over.
"Patrick and I have definitely talked and want to make a difference to the team and the whole PNHS soccer program moving forward," Bertoni said.
Keeping a positive attitude for the Tigers is key in times where the team is going through a slump. Tigers recently suffered a lost to St. Charles East 3-0 on Thursday. Although the by the score seemed to be a blowout, the Tigers fought hard throughout the whole game. Once the first goals had gone through late in the second half the Tigers confidence had diminished.
"We can't win them all, and it's important to keep a poise when going through situations like these throughout the season," Bertoni said.
Tigers look to bounce back from their previous loss, hoping for a win against conference opponent Romeoville
"We have to make sure we take advantage of this game and get back on track to our winning ways, before it is too late," Elster said.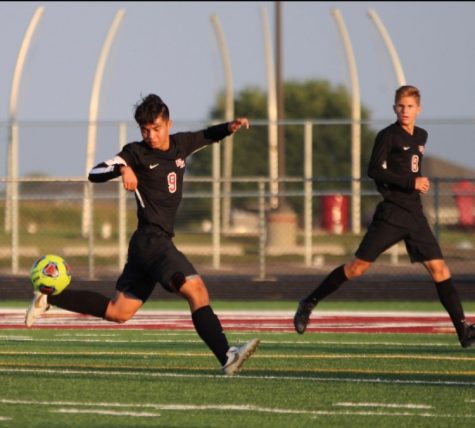 Senior Patrick Elster and sophomore Kanon Woodill dribble the ball down the field vs Glenbard West.
Photo by Carrie Ruffel