District choir students honored
Hang on for a minute...we're trying to find some more stories you might like.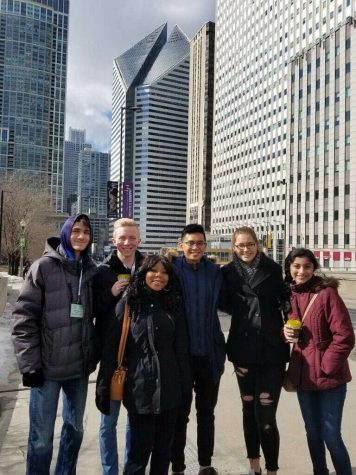 The American Choral Directors Association [ACDA] welcomed five North students among hundreds of other choir students coming from all over the Midwest to perform at the Harris Theater in Chicago on Feb 17. 
"Everyone was equally as invested to get what needed to be done," junior Sydney Swanson said. "You learn a lot from your conductor and the people around you. It's a good experience, especially if you're going into music." 
Juniors Jean Garcera and Sydney Swanson and senior Emmy Hensley participated in the High School Honor Choir [HSHC] while freshmen Amanda Bautista and Elizabeth Carlisle sang in the Mid-Level Treble Voice Honor Choir [MLT].  
"I got to miss school to do something that I love to do," Garcera said. "I got to sing with other talented kids from across the Midwest." 
Towards the end of September, choir students who wanted to audition for ACDA had to send in a recording of themselves singing a song and performing their scales. These tapes were anonymously sent to judges to decide on which choral students would attend the performance. 
"Back in September we sent video auditions and near the end of October we found out if we made it and then we got our music. We were expected to know [the music] when we got there," Garcera said. 
Across ten states in the Midwest, over 600 choir students had auditioned to be a part of ACDA. Approximately 54 kids were chosen for each voice part. 
The selected students were then sent to Chicago for the weekend of Feb. 14 where they stayed overnight. Hundreds of students rehearsed with their given directors for 13 hours with small breaks throughout the day. Each honor choir practiced several pieces that were performed during the concert. 
"The rehearsals had lots of refining, balancing and style for the music. [The students] were fantastic," choir director Monica Bertrand said.  
The HSHC performed six different songs ranging in tone and genre. Conducted by Jefferson Johnson, these students performed famous pieces such as "Regina ceoli" and "Down in the River to Pray." The MLT girls also sang heart-warming songs like "Hold Fast To Dreams" and "Rise and Shine," conducted by Judith Herrington.  
"These pieces were the most challenging songs I've ever had to do," Garcera said. 
The performance in the Harris Theatre lasted a little over an hour featuring four seperate choirs with a different conductor for each. Every choir performed six songs ranging from classical to latin genres. 
"It was fantastic. The entire concert was amazing. I'm really proud of my students," Bertrand said.