Two boys' advance to state
December 1, 2017
Filed under Sports
Hang on for a minute...we're trying to find some more stories you might like.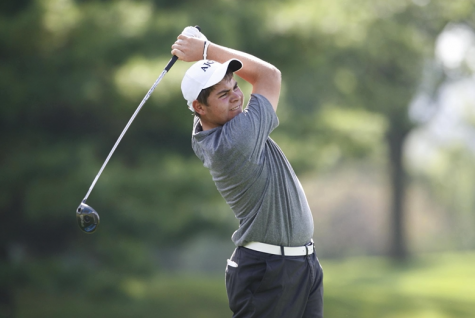 North boys' golf took home the 2017 Southwest Prairie Conference championship trophy on Sept. 27 at Wedgewood Golf Course in Joliet.
The day consisted of more than eight hours of golf with North competing against the entire conference with strong talent from Minooka and a young Oswego team.
The Tigers won the conference title. Seniors Nate Kirberg and Gavin Doyle along with freshman Drew Maletich and Todd Daugherty from North made the All-Conference team.
North had a close battle until the finish while they had a good Oswego and Oswego East team behind them. The final standings were North (321), Minooka (325), Oswego East (333), and Oswego (337).
Winning the conference championship, that gave the Tigers a confident start into the Naperville Central regional at the Naperbrook Golf Course.
The Tigers finished 6 out of 9 schools but did not win the regional. However, the Tigers did send two boys to sectionals. Seniors Jake Simpson and Nate Kirberg are two North golfers who advanced.
"It's good knowing that all the practicing over the summer finally paid off," Simpson said.
Kirberg finished the 18 holes with a point's total of 75 while Simpson finished with 78. "For the conditions and this being a really hard regional, it's pretty tough to get out of there," Simpson said.
Kirberg and Simpson would go into the Glenbard East sectional and face good competition like a group of Oswego golfers that took 4th in the West Aurora regional.
Sectionals was held at Glendale Lakes Golf Club in Glendale Heights, Kirberg and Simpson both finished within the top 20. Kirberg finished 4th and moved onto the state finals while Simpson finished 16th. The sectional was very competitive and everyone who finished within the top 20 shot under 80 for all 18 holes.
"Jake and Nate participated in what ended up being the most competitive sectional in the state. It was a huge accomplishment for both of our players to get out of Regionals," Coach Mike Kneip said.
Kirberg is only the third golfer from North to advance to the state championship. Out of 112 other golfers, Kirberg placed 18th during the 32-hole weekend with a score of 79 in the first round and 71 in the second round, with a final score of 150.
"I've played in summer tournaments that are also at a high level that helped prepare for this which is the highest level in high school golf," Kirberg said.