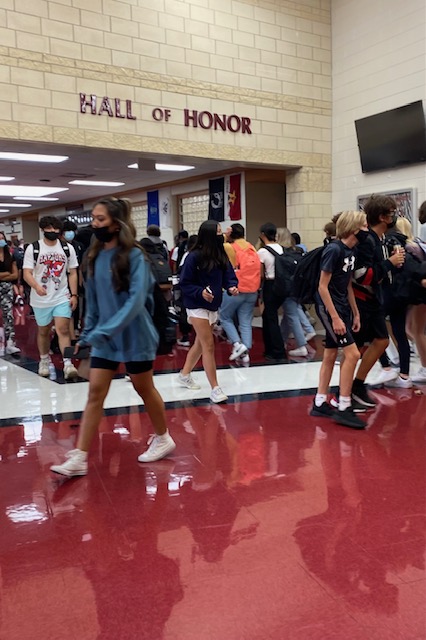 The Tigers Return
All students and staff returned to in-person learning on Aug. 18 after a year of hybrid and remote learning.
Due to the summer rise in COVID cases, Gov. J.B. Pritzker announced new mandates for opening schools for the fall. 
According to an Aug. 4  state press release, "In preparation for the start of the upcoming school year and in response to the highly contagious Delta variant, all students, teachers, and staff at pre-kindergarten – 12th grade schools and daycares will be required to wear masks regardless of vaccination status, effective immediately. This guidance is in line with recommendations from the CDC."
This new ruling supersedes the district's original plan to make mask wearing optional for students and  staff.  In the August District 202 Community Column posted on the district website, Superintendent Dr. Lane Abrell explains why District 202 will be following Pritzker's executive order. 
"The potential negative impacts of defying the Executive Order may include but are not limited to: a high risk of legal liability, jeopardization of state and federal funding, and participation eligibility of high school athletic or extra-curricular programs." 
Assistant Principal Darnell Weathersby oversaw building preparations ahead of the 2021-2022 school year opening. Some of last year's safety protocols were removed or changed following new guidance from the state and the CDC.  
"The floor decals were removed [and] classrooms went from six feet to three feet, so every classroom has at least 30 desks that are at least 3 feet apart," Weathersby said. 
COVID guidelines regarding lunchroom procedures was not an issue last year because of North's shortened days. This year though, the school had to work with the new regulations. 
"We have 102 tables inside and outside the cafeteria," Weathersby said. "Currently, we seat six to a table with the three feet guidelines. You have to scan in with QR codes at the lunch tables for contact tracing purposes."
Another building change is in self certifying procedures. Last year, students had to complete a symptoms check before entering the building each day.  This year, daily self-certification is eliminated.
"I am glad we do not need to self certify anymore because that is one less thing I need to worry about every morning," senior Lindsey Mcdonald said.
Another procedural change is no longer sanitizing desks in the classrooms between periods. Instead, deep desk sanitation is completed nightly by the custodial staff. All high-touch surfaces are still cleaned every hour during the school day.
"I liked when desks were cleaned after each period," senior Angelina Pardo said. "I think it is a good precaution to take to keep everyone safe." 
Contract tracing policies have also evolved following CDC recommendations. 
"When families report to us that one of their children tested positive, we use the same contact tracing process, but the number of people impacted by COVID is different due to vaccination rates," Weathersby said.
For many students, just being back in the building full time with the whole student body was long overdue.  Pardo sees the opportunity to have in-person instruction and be able to socialize with their friends as a positive experience. 
"I feel great going back to school in person rather than online this year," Pardo said. "I am happy to see my friends, and I am also excited to learn hands on." 
McDonald concurs. "I hope that I can experience a somewhat normal senior year and hope to do the best I can academically." 
Not only are the students happy to be back in attendance, but the teachers are as well. They look forward to seeing students' faces in person and not on a screen.
"This school year I am most looking forward to building relationships and helping students grow academically and individually," chemistry and biology teacher Tracy Longmire said. 
 Last year, North administration and staff focused on students' social and emotional well-being during both remote and hybrid learning. It will again be a priority this year.
"Even if it's just for the mere social and emotional needs for staff and students," Weathersby said. "We did what we had to do for the spring. Teachers are here to impact the lives of students and that is best done in person."
The teachers and students of Plainfield North will try their best to keep everyone safe and to start the school year off strong. 
"Nobody wants anyone to get sick or have to quarantine, so it's more important than ever that we all do our part and follow the guidelines in place," Longmire said.