"Queen Sono" Review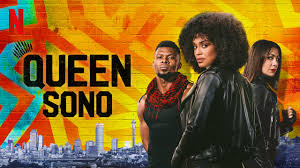 Rufas Hines, Staff Writer
March 17, 2020
"Queen Sono" is very generic but with an African twist to it.
Beginning on Feb. 28 on Netflix, show is like "Riverdale" and "Supernatural" but with African twist.
"Queen Sono"  is like both shows because of the action and having one big case for the whole season while characters are being badly affected.
Pearl Thusi as Queen Sono who is a woman who loves to stop crime and fight. At the same time, though, Sono has issues with her dad and dead mom. Her dad left when she was born and became a deadbeat dad.
Queen Sono works for the CIA discovers intel about people. She got in the job after her mom died and now Sono is on mission of who is starting riots in Africa.
The fighting in this show is below average. For example, in the first episode there was a chase scene and the guard for this ocult leader were trying to find her because she stole a certain watch. Some guards did but it look like she didn't mean to hit them. She could not pick up this guard and look just a weird scene .
The second character that is important is the first antagonist Vuyo Dabula as Shaundu Johnson Magwaza. Magwaza's goal is to make Africa great again and kill the colonists since they love taking their resources. He tired of Africa being a white owned country and wants them to go back to their county and make an empire. Magwaza wants to wake up the African people using Katerina Gromova.
Kate Liquorish as Katerina Gromova  is the second antagonist of the show and she does most of the fighting later on in the show. After her brother died, she is now leading Magwaza and his group to success. Her character is exciting because she can kill anyone one on one while being a candidate to become president.
Cinematography of the show is very creative. Peoplr like it because it is in places you would not expect to be great camera angles. For example, the camera angles in Uganda are amazing and it looks unique rather than typical places like Paris, France.
The writing of the show are mixed opinions. It is good because the Africans are using different languages as slang rather speaking it. The show uses English mostly but for their punchlines they use other languages to make the joke funnier, The only bad part is that they are using the languages way to much.
It is their culture but people are not trying to read the subtitles all day for a joke.
Also, Gromova is trying to find who is stoping her plan and destroy them.
The director of this show is South African comedian Kagiso Lediga who made "Late Nite News with Loyiso Gola and Blitzpatrollie". Kagiso is an independent director and the shows he do are funnier but "Queen Sono" is serious and deals with real African topics like politics and going to war with other countries in the continent.
The show gives people a feel of what Africa is like. It's not all bad like America shows Americans in commercials.
Queen Sono is a watchable show only for people who like African scenes and topics, quick thicken plot, and love getting to the point quickly.