Starting off on right track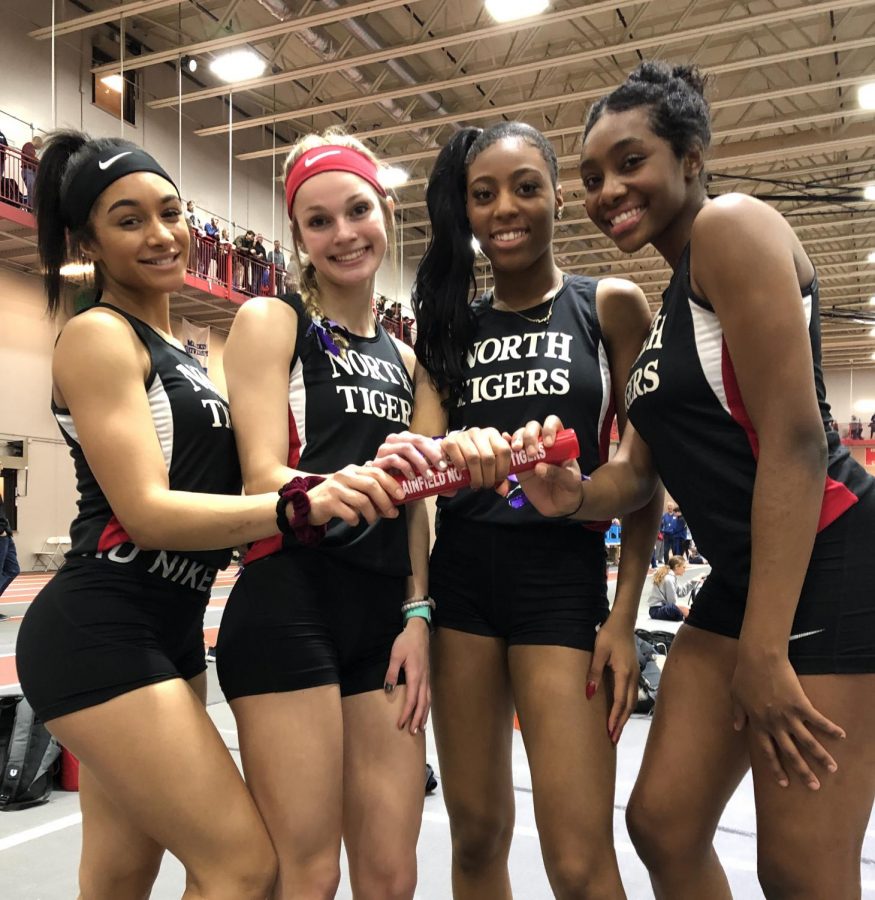 Thomas Tracey, Sports Editor
April 5, 2019
This season holds great promise and potential as girls' track finds themselves three meets into the season. They finished first place in their first two meets and still have plenty more to come in the following months.
Coach Tammy Gummerson, who is both the girls' cross country and track coach, would like to see the younger talent continue to prosper and step up. They had a good cross country season but would like to keep getting better with consistent training and team focus.
"We are hoping to get more athletes down to the IHSA state finals this year," Gummerson said. "We graduated two state qualifiers [last year], but we have some new talented athletes."
One standout runner is senior Juliana Stogsdill, who has qualified for the 3200 at state for three straight seasons and made state in cross country all four years. She has consistently been one of the top runners both during cross country season and for long distance during track for the distance crew.
"My main goal individually is to get all-state and to get under five minutes for the mile," Stogsdill said.
Junior Aja Bradshaw also qualified last year for the 100, 200 and the high jump. She is looking to have a productive season and to keep improving.
"The team this year is a little bigger, and we are more involved with each other," Bradshaw said. "I would like to make it to state again in all of my individual events and I hope that we can get a 4X4 or 4X2 relay to state this year."
Juniors Cori Ewald and Izzy DeVenuto are also among the best returners. Ewald is a captain and commented on her belief in team commitment.
"[The team captains] were chosen because we are dedicated to this team and make this team our priority," Ewald said. "We care about everyone's well being and success this season and plan on making the team a whole rather than breaking it between distance, sprints, jumps and throws. We want to be one team again this year."
Gummerson also mentioned two more girls on the team who have already showed their abilities, even so early in the season.
"[Junior] Sydney Cangilla is really working hard in the high jump," Gummerson said. "Junior Payton Panka broke the indoor school record from 2008 in the shot put in the first meet. Both ladies had lifetime bests at the first meet."
The team's first meet was the PN Quad which was a relay invitational at North on Feb. 13. It wasn't officially placed and team points weren't counted, but they did still finish first overall.
"We all performed very well," Bradshaw said. "Going forward, we could spend more time focusing on technique and preparing for our races better."
Their second meet was also a home meet, the PN Indoor Invite, which was held on Feb. 22. They also finished first at this meet with several contributions from teammates across the board.
"We all practice hard," DeVenuto said. "When it comes down to meet day we know how to prepare and get our mindset right."
At the third meet, they went to North Central College on March 4 for the Downers Grove South Mustang Relays. They finished third at this meet and had strong performances from Bradshaw and Ewald.
This tremendous start in the first two meets is a bright way to begin the 2019 season for the girls, and they hope to continue to win moving forward.
"We have two amazing coaches that work well together, and a lot of girls pulled through to join," DeVenuto said. "It was a bigger turnout than I was expecting."